SKELETONS: Museum Of Osteology

Print this listing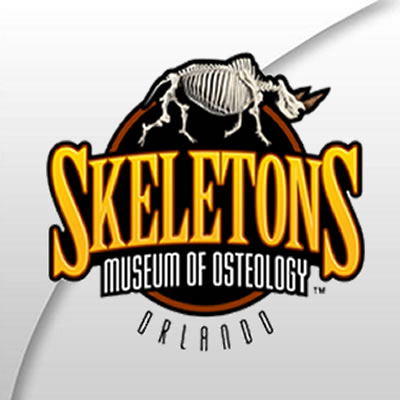 Play 4Less Card Offers:
Buy One Get One Free Admission
15% Off Merchandise
*Valid on full price admission only and free admission applies to lesser value admission.
SKELETONS:
Museum of Osteology celebrates vertebrate life by providing guests with an engaging adventure full of discovery, with the hopes that through education, we will help cultivate an appreciation of the natural world and ultimately lead to conservation for the future.
SKELETONS: Museum of Osteology is a family-owned museum, and one of only two skeleton museums in America. Both museums feature the inner framework of hundreds of animals from all over the world.
You may be wondering how a family from Oklahoma came up with the idea to build "America's Only Skeleton Museum."
It all began in 1972 when Jay Villemarette, at the age of 7, found a dog skull in the woods. Jay's parents saw his fascination in the skull, and encouraged him to begin collecting skulls. Jay spent nearly all of his free time scavenging for skulls. He later entered his small collection into his 5th grade science fair. Jay won 1st place!
In 1985, Jay married his wife Kim, who also encouraged his passion for skulls. One year later, they opened their company Skulls Unlimited International with a one-page price list.
25 years later, Jay's collection continued to grow and include some of the rarest species in the world. He came to realize his new passion: sharing his collection with others. For seven years, Jay and his four children worked together to make the company a realization of this goal.
In 2010, the Museum of Osteology opened in Oklahoma City and became America's only skeleton museum. Visitors greatly enjoyed viewing the vast Skulls Unlimited collection for the first time in person. Excited by the success of this museum, the Villemarette family spent the next several years working towards the creation of a second museum, Skeletons: Museum of Osteology to Orlando for even more individuals and families to enjoy.
Location
ICON Park™
8441 International Dr
Suite 250
32819
Orlando
,
FL
Florida
Total votes: 96
Rate This Venue